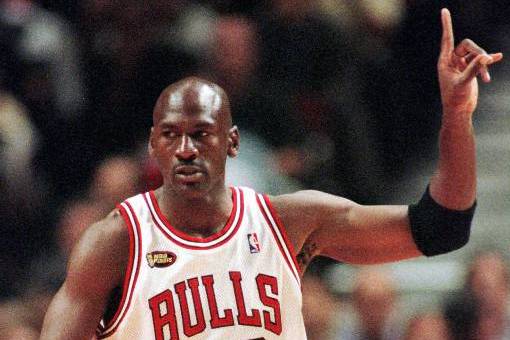 As June arrives and the NBA Finals enter our horizon, we must sit back and appreciate what incredible basketball is being played. LeBron James has led his Cavaliers team to the Finals for the 2nd time in the history of the franchise. It was no easy task for James and his crew as they had to battle through losing Kevin Love for the playoffs with a dislocated shoulder and an injury-plagued Kyrie Irving who just hasn't been able to remain healthy enough to consistently produce at a high level.
It's been another remarkable run for LeBron as this is now his fifth straight NBA Finals appearance and his sixth total. James has won only 2 of the 5 Finals series that he has been apart of. With the continued dominance from LeBron, many have begun to compare his legacy and his career to Jordan's. Some say that LeBron James has passed Jordan on the ladder to the top of the list as greatest of all time, but I'm here to tell you that there is no ladder. There is only one man at the top and only one true "King", and that is Michael Jordan.
LeBron James can't be compared to Jordan because he doesn't play like him and never will. The arguments and back and forths on who is better or whether one will be better than the other when James' career is all said and done is not needed. There is no debate. Michael Jordan did it in a different time, when the greatest all played at once. Early in his career, he had to face Bird and the Celtics, Magic and the Lakers, and Isiah and his Pistons. He wasn't able to find too much success at an early age, but as he got older who did he have to face? Just the Lakers towards the end of their run, Clyde the Glide with his Portland Trail Blazers, Stockton and Malone, Patrick Ewing and the Knickerbockers, Reggie Miller's Pacers, Charles Barkley's Suns, and many more future greats. MJ was beating Hall of Famers to make the Finals. Who is LeBron beating? The likes of a slow and fatigued Chicago Bulls team and an injury-ridden, inexperienced Hawks team. Is it fair to judge James off of the opponents he goes up against? Maybe not, but to only have 2 Finals wins, when you have a high likelihood of making the Finals each and every year, is just not that impressive for the kind of talented player that LeBron James is.
Michael Jordan will forever be regarded as the greatest of all time. It isn't unfair to James, as the simple fact of the matter is that Michael Jordan was much better than James is today. He had that killer instinct that enabled him to never be beaten in the Finals. Who this is indeed unfair to is the next great legend to enter the NBA. Maybe, just maybe, one player in the future of the NBA will win more than 6 NBA championships. Still, unfortunately for him, there will still be the debate. Jordan left the NBA for a couple of years to try and begin an MLB career, as we all know. There will never be a debate, because those couple of years will always be labeled as the "what if" stage in Jordan's career. If he stayed, would he have two more championships? Maybe three? Who knows. The only fact is that Michael Jordan is a legend and the true King of the NBA and this legend will never be overtaken.
He will forever own the label as the Greatest of All Time and the one and only King of the Court.